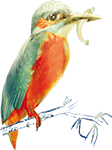 We offer different types of mobile homes for rent at Camping Dordogne Le Garrit. They are located just 50 metres from the swimming pool and 80 metres from the river . You can see their position on the campsite map.
Each accommodation is installed on a grassy pitch and has a terrace, equipped with garden furniture and deckchairs. Depending on the mobile home, these terraces are either semi-covered or equipped with a parasol so that you can enjoy the Dordogne sunshine but also a little shade on hot days. The layout and the quality equipment of these accommodations, will allow you, without any doubt, to spend a comfortable stay, delicious holidays in the sun at the edge of the Dordogne within a excellent natural environment.
Mobile homes for rent at Le Garrit campsite in the Dordogne
We try to add to our accommodation as the seasons go by, the little extras that you have suggested to us, as far as possible of course. So we try to keep our older models attractive for a pleasant stay. If you wish to come for less than a week in one of these rentals in the low season, please contact us! Depending on availability, we accept reservations by the night. You can take a few moments to relax at a riverside campsite where you can even come by canoe.