The opening of the campsite in Dordogne Le Garrit, it's coming soon
We found this magnificent magnolia tree on the banks of the Dordogne river not far from the campsite. Every year on our walks we discover that it is in bloom, we know that the opening of the campsite is approaching. You may think that there are calendars for this, which is not wrong. But nature is a very good indicator and in a much more poetic form.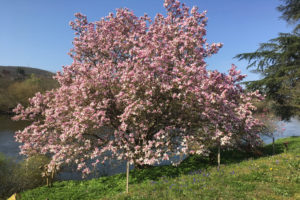 Due to the government's mileage restrictions, we plan to open on May 7. It is possible that this date will change, if you are not able to come, we will delay the opening. But summer is coming, you will undoubtedly be numerous to come and discover or rediscover our beautiful Dordogne and its many treasures. You can choose, cottagesWhether it's a mobile home or a bare pitch, the opening of Le Garrit campsite in the Dordogne will be soon.